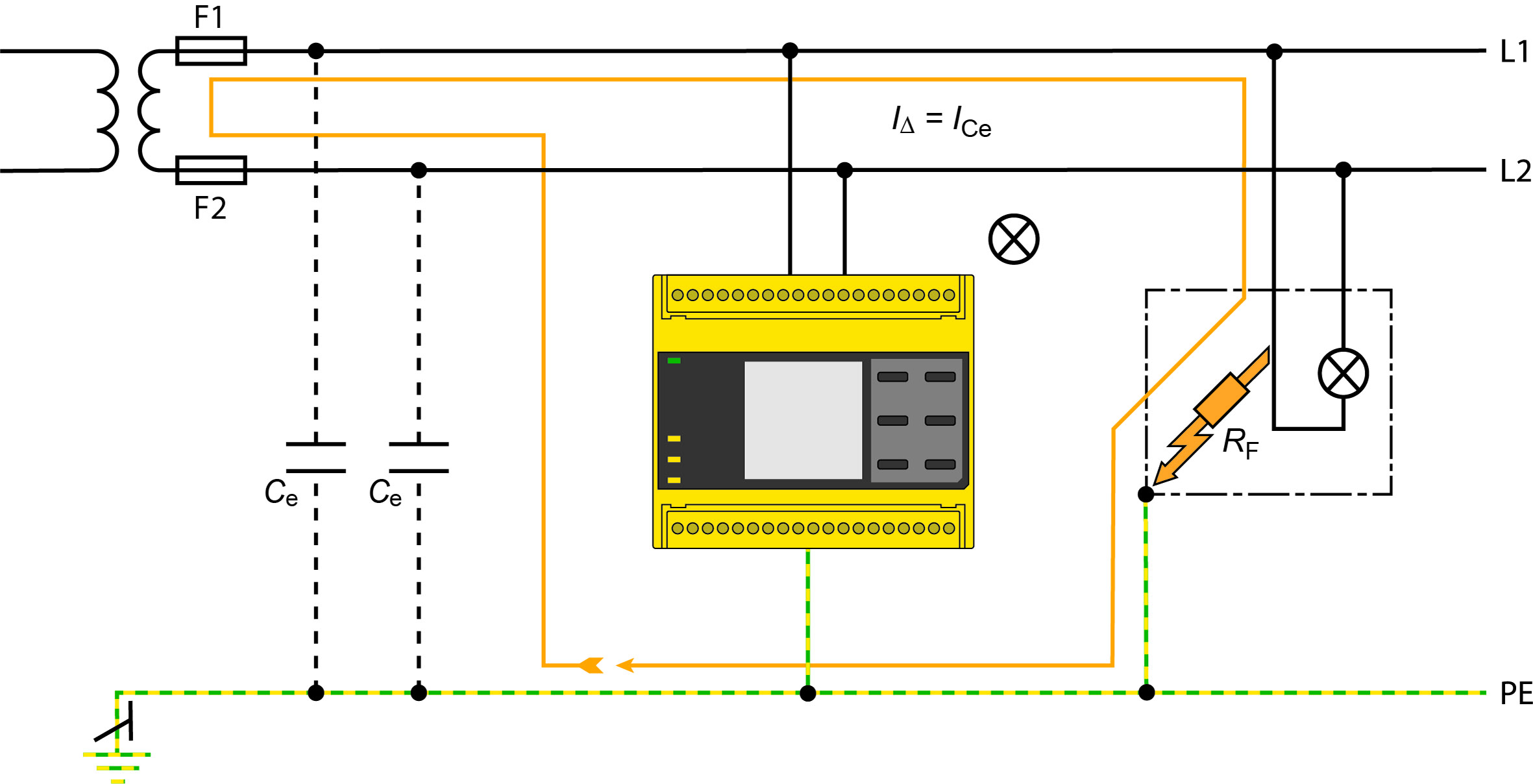 Real-time monitoring
The latest trends in propulsion systems in rolling stock have increased the complexity and the potential for earth faults in electrical networks. It is therefore essential to have a real-time overview of the condition and identify possible threats as soon as they emerge, maintaining plant availability and enabling predictive and preventive maintenance.
Continuous monitoring with an insulation monitoring device (IMD) indicates critical values and the development of issues even before an alarm is sounded, providing a real- time check on system health.
These values forewarn of developing failure, providing system information and allowing corrective action before faults become critical. This reduces unplanned downtime and maintains availability of assets at a high level.
However, keeping the system running after an insulation fault comes with a downside. In a grounded electrical network, a fault normally results in tripping a circuit breaker, clearly identifying the branch where the fault has occurred. This is not the case in ungrounded networks. Typically, on an ungrounded circuit maintenance personnel must try to identify the fault by disconnecting parts of the network and checking the reaction of the resistance value shown on the IMD.
Depending on size, the time and effort taken to identify the fault can be huge because in addition to disconnecting parts of the network, the maintenance team must wait for the measurement cycle of the connected IMDs. Depending on the capacity in the network this could add up to several minutes per feeder. Separation and reconnection of cables comes with the risk of touching a live working system. On a train these procedures may also impact other maintenance processes due to an interruption of the power supply for lighting or power sockets.
Fast fault identification
First faults can be identified using an insulation fault location system (IFLS) to technically locate earth faults during normal operation without interrupting any power supplies. Once a train is equipped with an IFLS the location process can start immediately after a fault occurs. The system feeds a current between phase and ground into the network which is equipped with current transformers and the location device. The locating current can be detected in the faulty feeder by the transformer, which then communicates to the detection unit.
As an alternative to an installed IFLS, a mobile pulse generator can be used in combination with a handheld device. This reduces the time taken to identify faults, which means increased availability of the train.
Generally, it is rare to find a completely fault-free electrical system in any location, especially rolling stock subject to high operational demands. Having an effective system design incorporating fault identification and location systems is the next best thing – reducing downtime and maintaining availability of vital equipment and rail services.
For more information about this application or to learn more about Bender technology related to your specific application, contact our team of experts.
This article and any opinions it may contain are for informational and educational purposes only. Bender has made every reasonable effort to ensure the accuracy and reliability of the information provided on this website. However, the information is presented "as is" without warranty of any kind. Bender does not accept any responsibility or liability for the accuracy, content, completeness, legality, or reliability of the information contained and/or opinions presented in articles or posts on this website. No warranties, promises, and/or representations, expressed or implied, are given as to the nature, standard, accuracy or otherwise of the information provided in this website, nor to the applicability, suitability, or otherwise of the information to your particular circumstances.